FARM 13 / STICK MARSH FISHING REPORTS


For the month of November 2007

17 November 2006

How about a 'profound statement' to start with.

"The bass fishing in the Farm 13/Stick Marsh impoundment is the WORST it has been since the place was built."

It is tough (as spelled t-o-u-g-h). Let no one kid you that you will catch bass there right now. Save your money and time until we figure out what is going on.

The last part of May, we filmed for ESPN and the bass were absolutely fantastic in the submerged timber. As good as it had ever been on the impoundment. Then, around mid-to-late June, the fish totally stopped. 'Stopped' actually means they moved. There was no fish kill and they have to eat to survive. So, it is obvious they simply went into a location change. The difficult part is that no one has yet figured out what has happened. Sure, one in a great while, someone will happen across some and catch a few. But, even that is rare. There have been a few 'advertising reports' circulated about catching bass well. But, trust me, that's what those reports are – advertising.

I have not been able to figure out the situation, either. I had a break from crappie trips yesterday and spent nearly five hours working submerged levees, wood and even shell beds in open water. I don't think I even had a strike. I am sure shiners would have been a more reliable 'search' tool. But, those puppies were $18 per dozen, the last time I checked. Too rich for my blood, unless I know for sure they will produce.

I will stay at it, as the crappie schedule allows. The bass are there. But, as stated earlier, they have made a major change in their living pattern. It may be that they deserted the wooded areas due to low water and summer heat. The wood on, or near, the surface could have acted as a heat sink, absorbing the heat from the summer sun and transferring it to the surrounding water. Being denser than water, a wooded zone will always absorb sunlight and be warmer than a comparable open water location. It may simply be that the bass moved to the slightly deeper, but open, water of Farm 13. That happens to be where all the crappie are; just stacked on top of each other and so easily caught.

In fact, we catch a lot of bluegill and shellcrackers drifting that open water for crappie. Plus, we see a lot of surface activity (small rolls and tail flipping) in the old open farmland sections, while there is hardly any movement in the wooded areas. Another interesting thing I have noted is that the Ospreys are feeding out in the open water, rather than down in the wooded zone. That says the open water may be where the gizzard shad (the Osprey's primary prey) are. One would think that someone would see the bass chase baitfish on the surface, from time to time. That is a normal open water event. But, all summer and fall, no one has indicated any activity of the sort.

So, we are faced with our 'fishing mystery'. I am sure we will eventually solve it. Or, possibly the cool-down of the water will return the baitfish and the bass to their normal habitats. Until then, I think I will take up trolling some shallow lures and search a lot of water!!

The good part of this report is that bass can be caught in a LOT of other places. Garcia Reservoir, just south of the Stick Marsh, has enough water to be accessible again and bass fishing has been good to very good. The borrow pit area, in the west-center of the impoundment, is a fine place. Concentrated on the vegetation clumps along the edges of the pit. Plus, free-line a shiner into the pit while you float shiners around the grass beds. Another producing pattern is the edge of the canals in the north half of Garcia. Artificials will do the job pretty well. The top choice in the soft jerk bait (RIPPIN' Stick, SENKO, etc.) and the ZOOM Super Fluke. Fish both weightless and just let them sink around cover and drops. Spinnerbaits will turn a few fish, too. But, the chain pickerel and their sharp teeth may take them away from you.

Finally, don't forget that we did exceptionally well last year in the canal that connects Garcia to the Stick Marsh. We used shiners along the edges of the vegetation in the canal, as well as the RIPPIN' Stick soft jerk bait over the vegetation on the shallow side.

Another hot location right now is lake Walk-In-Water over near lake Wales. If you recall, this lake also lost all its open water vegetation to the 2004 hurricanes. Long known as a great bass lake, especially for trophies, Walk-In-Water is really gearing back up as new grass is starting to emerge in a large section of the lake. Our fellow guide, Stan Daniel, fishes the huge lake regularly and indicated a mile-long section with new submerged grass now two feet off the bottom (in 7-8 feet of water). Stan indicates a Rat-L-Trap is great. Of course, a slowly trolled shiner will get them, too! Stan also informed us that he caught some fine crappie by drifting minnows over that same emerging grass. Lake Wales if close to the Bartow/Lakeland area, so it is a bit far for us to travel on a regular basis. Call Stan at 772-834-9124, if you have an interest. I don't think you'll regret it.

Of course, never pass up big Lake Kissimmee. It's out here in the middle of nowhere, west of Vero Beach and south of Orlando. But, it continues to be one of the Sunshine State's finest fishing lakes year after year. When major tournaments are held out of West Lake Toho, to the north, the winner usually makes the daily run to catch his fish in Lake Kissimmee. There is an article on my web site that includes Lake Kissimmee (Article 97).

As we stated earlier, the crappie fishing is simply unbelievable on the Stick Marsh. We always caught them well when we wanted. But, both last year and this, we have been forced to take a harder look at them to fill the bass fishing voids in the Stick Marsh. This fall, we are doing about as many crappie guide parties and we normally do for bass during the same period. One of the reasons is the awesome size of many of the panfish. Nearly every trip, we get numerous fish in the 2-pound range. Occasionally, we have gotten a few near 2.5-lbs. That's a huge crappie anywhere. Limits (25 per angler) are easy to come by. Usually, we can do that in our half-day trip (5 hrs.). Sometimes, if we have multiple anglers aboard, it may take longer to catch multiple limits.

The best crappie fishing is right out in the open water of Farm 13. Forget the submerged canals and levees, as they play no role. With no open-water vegetation left in the impoundment, the baitfish have no 'hidy-holes' any longer. Accordingly, they are balled up in huge schools out in that open water and all the predator fish are following them around, dining as they please. The crappie, especially the large ones, have huge bellies and look as though they are full of eggs. But, that event is still a few months away. The bulging bellies are actually attributable to hapless baitfish. As a result of the continually full bellies, the crappies' bodies are also very heavy and broad.

Catching these fish is very easy. Simply drift live minnows at a depth of about 6 feet (a foot or so off the bottom). Jigs are NOT recommended for this presentation. Weight the line down to hold it at that depth. Use a wind sock/sea anchor to slow your speed during stronger winds. Use multiple poles/rods to increase your chances of catching more fish. ANY of the open water north of the wooded lower end of the Farm is holding crappie right now. The northern half of the Farm appears best, possibly because it is about one to one-and-a-half feet deeper than the south end.

We are presently well booked up through the end of December, but do have openings left. This crappie pattern should remain stable through the start of the spawn at the end of February.

Below are some great pictures of the crappie fishing since early November. It just doesn't get any better than this!! You could be next!



15 Nov 06, Wendy Cosentino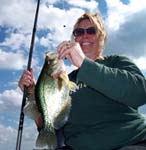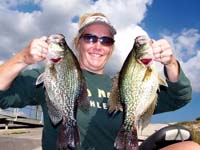 13 Nov 06, Mickey Arbogast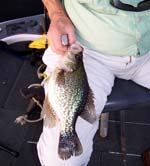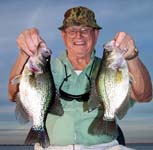 12 Nov 06, Chuck and Lindsey Adams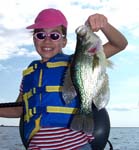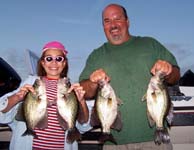 10 Nov 06, Larry, Patrick and Bryan Kile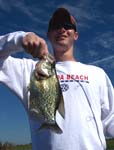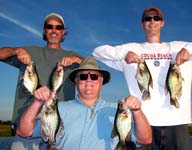 8 Nov 06, Vernon Grizzard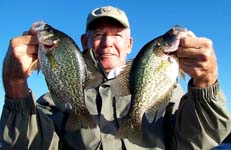 4 November 2006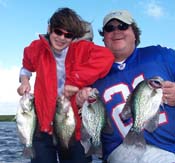 We almost canceled our 3 November trip. Some rain was forecast, as well as 25-35 MPH winds. In fact, the National Weather Service had issue a 'gale advisory' for the east coast of Florida!! I spoke with Eddie Dalidowicz three times the day before we were due to fish and suggested we re-schedule. But, his 10-year old son, Bronko, was out of school on Friday and that was the only time they had available. I explained that we would play it safe and I could get us out of the wind a bit, but it would be hard fishing.

Bass were out of the question, as those waters would be blown out. So, we decided to work the crappie in the windbreak of the north end of Farm 13. Getting to and from that location made us recall that rainsuits are wonderful invention, as we all got drenched with spray. But, the good old FroggToggs kept was dry.

Our single option was to drift live minnows in all that open water of Farm 13. Of course, this time we were somewhat limited in where we could attempt to fish. In fact, we had to deploy two drift socks/sea anchors to keep the big Blazer 202-ProV below lift-off speed. A good example of the wind velocity was the fact that by afternoon, it was becoming difficult to talk back and forth and be heard!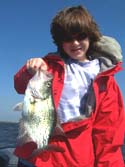 Young Bronko is a lucky young man. His Father, Eddie, has taken him all over the World on fishing trips. Bronko, although only 10, has caught northern pike, walleye, grayling, smallmouths, and many other species. Plus, Eddie has an offshore boat in south Florida and Bronko has caught lots of saltwater fish, as well.

We used 1-12 foot fiberglass poles and put a LOT of weight on the lines to hold them down. We drifted as slowly as conditions and our equipment would allow, trying to keep the live bait about a foot off the bottom. The rocking of the boat varied the depth by about a foot up and down.

Our ideal trip would have been to try to get Bronko a giant bass. But, conditions deep-sixed that this day. However, the youngster had never caught crappie, so this trip would expand his experiences. He was quick to catch on to what a strike looked like on the tight-line rigs we were using. But, it took a few fish before he got the hang of swinging them up and into the boat with those long poles and lines. It was made even more difficult by the strong, swirling winds. At times the fish looked more like kites than crappie!! But, as the pictures show, we managed to catch some really nice fish.

General Comments:

The crappie appear to be exceptionally active and easy to find. As it was last year, the open water areas of Farm 13 seem to hold them most anywhere. But, with no grass to key to, they are moving around following the baitfish. So, drifting until you hit some of them is required.

Any area with shoreline grass seems to also have a lot of them. This is NOT hydrilla/milfoil/coontail, but just the usual standing grass and vines. The fish are in positions 2-6 feet off the grass. The north end of the Stick Marsh, north of the boat launch, is exceptionally well populated, as in the spillway basin shorelines at the southeast end of the Farm 13 section. For those along these shoreline grasses, a 16th oz. jig works better than minnows because it can be fished rapidly and covers the water quickly. I found the PERFECT Jig in cinnamon, w/chartreuse tail to be best choice.

Large bluegills and shellcrackers are also very 'catchable'. The school usually gives up about 10-12 fish each before the size starts to diminish. The best locations for the schools have been in 2-4 feet of water, just off the rocks along the east wall of Farm 13. That same jig, in cinnamon, w/chartreuse tail has been our best lure. But, I am sure they will hit crickets and red worms well.

The true status of the bass fishing remains to be seen. I caught a few last week, on my first trip out. But, all the other anglers I have spoken with say it is very difficult. One guide reported catching over 20 bass one day. Another guide was fishing near him the next day and said he caught only two that day. So, it may be a day-to-day thing. For sure, the bass are moving, following those baitfish around. You just have to work hard to locate them on a given outing.




---


Today's Weather for
the Stick Marsh Area



Past Stick Marsh Fishing Reports

Farm 13 / Stick Marsh Information Guide

Email questions to jporter@jimporter.org.






Recommended sites by The Fishin' Tipster

A common question that we get: "Is there somewhere close to get bait and tackle?" This is where we get our bait.




Pete and Tina Heinz / 9 South Mulberry St. / Fellsmere, FL 32948 / 772-571-9855






Get your site listed here
Let us help you drive more targeted traffic to your site.
Rank our Site
ęCopyright 2001-07 All rights reserved by Jim Porter, any reproduction, quotation or other use of this site or its elements is prohibited without the express written permission of Jim Porter
FROGG TOGGS RAIN GEAR
THE BEST PRICES AVAILABLE!!