FARM 13 / STICK MARSH FISHING REPORTS


AUGUST 2006

22 August 2006

This fishing report is informational and covers our home waters in Florida and some new things we are doing in North Carolina..

While I have been at my summer place in North Carolina, I have been in contact with four very reliable anglers who fish the Stick Marsh/Farm 13 impoundment on a regular basis. A couple are local guides that I send my parties to when I am out-of-town. They report that the Stick Marsh bass fishing nearly dried up this summer. It was going great-guns when I left the area in late May and apparently was fine for another 3-4 weeks. We finished up with ESPN2's Rod and Wheels production around 26 May and the fishing was awesome. Stan Daniel provided the camera boat and had to grit his teeth as we caught those big old lunker fish. It was truly awesome fishing with artificials. But, after we got enough film shot, Stan got to do some catching, plus he taught the cameramen how to do it, too! Then, a few weeks later, it suddenly slowed dramatically. The catch rates dropped to 1-5 bass per day. And, apparently, other guides and anglers reported the same problems. It was noted, though, that the fish that were caught were very fat, healthy and full of fight. We were advised that there had been no noticeable fish kill, or other anomalies.

The conditions were hot weather, little rain, and water levels about 12-18 inches low. It was noted that, when conditions were clam and the water surface slick, huge baitfish schools could be seen covering nearly the entire visible surface area of both the Farm and the Marsh sides. When that condition exists in the summer, it is normally indicative of low oxygen content and the baitfish are actually trying to suck air from the surface. (Warm water holds less dissolved oxygen than cooler water. So, with the impoundment being shallow to start with and even lower due to the lack of rain, the water had possibly warmed more significantly than past years.) Also, the lack of the normal afternoon thunderstorms that bring the fresh water, were probably major factors, as well. First, the rain impacting the water surface helps add oxygen to the water. Second, and even more effective at oxygenating the water, would have been the strong winds that usually accompany thunderstorms. No storms meant no wind. No wind meant no water turbulence and no mixing. That, in itself, affected the oxygen levels.

Another fact is that the grass has not started to return to any degree yet. You can spot a little in a foot, or less, of water around some banks. But, there appears to be none in the deeper open zones. If someone tries to tell you the grass has returned, make them show you. He won't be able to.

My 'take' on the poor fishing is that the baitfish are dying off due to a lack of oxygen. That means the bass, and other predators, are simply lying under them picking off all they can eat as they flutter down (happens the same way during the winter baitfish kills up north). The bass are lethargic due to lower oxygen levels, plus are very well fed. So, they just will not chase an artificial. In the absence of a major fish kill, that is the only answer that makes sense to me.

The Garcia Res., just south of the Stick Marsh/ Farm 13 impoundment, took up a lot of the slack left by the drop in angling success at the larger body of water. Garcia was very low for a good while, as was the Stick Marsh. Even when some rains did come, the water was passed through both Garcia and the Marsh to try and raise the dangerously low St. Johns River levels back to normal. The St. Johns got so low that the water intakes at cities that used it for drinking water were almost unable to take in water. Garcia, with its massive amounts of vegetation, produced very well on topwater and the soft jerk baits, like the RIPPIN' Stick. Horny Toad topwater frog buzzers were good, as well as the standard fluke lures. But, with the low water and the heat of summer, the exploding vegetation growth gradually shut the place down to all boat traffic. For awhile, there was one boat lane that would allow you to run the south end of Garcia and get to the borrow pit area. That large area had deep water and stayed open. But, gradually, the single boat lane filled in and Garcia was shut down to all but airboats. We'll let you know when this situation improves. But, it will take some pretty cool weather to thin that grass appreciably. Some high water would help. But, the only source for the amount required would be a nearby hurricane, or two. We really don't want that again!!

To date, the action has not recovered much. Thankfully, the rains have started again. But, there have been no signs of better fishing yet. We will watch this and keep you updated. I'd really like you to come fish the impoundment with me, or just come on your own and enjoy the great angling. But, if something has happened to the fishing, you'll hear it from me as soon as I know for sure. You can trust in that.

One good note about the Stick marsh/Farm 13 impoundment is the water clarity. Last year, we had an awful time with slit (from rotted vegetation caused by the 2004 hurricanes) being stirred up when the winds blew. It looks like that is probably a thing of the past now. That means we should have another banner year for the giant crappie roaming all that open water, wondering when the grass will finally return. And, the bass should gang up in the submerged wood like gangbusters!

In North Carolina, we have become situated in Murphy, right in the far western corner of the state. We deliberately selected this area because it is surrounded by water and great fishing. There are three major lakes within 20 minutes of my driveway – Hiawassie, Nottley (just over the NC/GA line) and Chatuage. Plus, within an hour, there are 4-5 more. So far, we have fished the three mentioned lakes a few times. All three are superb bodies of water, each with its own 'best fishing' and 'best ways to fish'. Three lure styles work well: the RIPPIN' Stick around docks and blowdowns; the Carolina Rig on rocky bottoms and gravel bars; and, small crank plugs around schooling fish. The Texas rigged worm works, too. But, the C-rig is easier to fish deep.



Right now, it has cooled off to 50 at night and the 70's in the day. That has cooled the water and started the front end of the fall feeding spree. The Kentucky spotted bass are working shad and blue-backed herring over great. It does not seem to matter what part of the day, either. We are keying to channel edges with rock or gravel flats next to them in the 8-12 foot range. The Kentucky bass herd the baitfish from the channel and onto the flats. Most anything tossed into the breaks get the fish to strike. If you have ever caught Kentuckies, you know how great they are! Largemouths are also starting to do this same thing, but up in the shallow bays and coves. Before long, the smallmouths should come from the depths and join in. The first sign of big stripers (Rockfish) and hybrids (Sunshine bass) appeared last week. We saw some large fish breaking and tossed some topwater lures at them. After getting the light tackle ripped all to heck twice, we switch to the heavy gear and found the fish were somewhat larger than the Kentucky bass we had been catching. Like five times larger!!!

We'll be back in Florida soon. So, give us a shout at 321-951-7841, or email at jporter@stickmarsh.com if you have any questions.

6 August 2006

Well, here we are, sitting on that mountaintop in western NC. Just gotten too old to handle all that Florida summer heat.

BUT – least you think we are not fishing up here, keep reading and looking at the pictures within this UPDATE.

We always make a lot of good friends during our summer visits to the mountains. Plus, we are always trying to expand our knowledge of fishing and learn to understand the little critters better. Occasionally, we find a tidbit of information that helps in our guide services back in sunny Florida.

We have always been very lucky at locating and catching fish (Mom says I must smell a little like a fish, or something) and the fine success with those big trophy bass in the Sunshine State seems to support that. We have also been very fortunate at catching the fish in our surrounding area of NC, Georgia and Tennessee.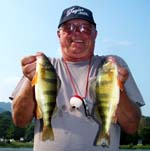 We don't guide when we are away for the summer. Well, at least it is not a business. We try to take the local kids out and sometimes a few of our friends in the area. But, we still are learning something new every trip. For example, we have learned to locate and catch yellow perch (sometimes called 'ring perch'). This is a very popular game fish in the northern areas of the country, especially the Great Lakes. It is also fine table fare. There are actually a LOT of them in the NC mountains because the temperatures are similar to the northern US. We have found that we can catch rainbow and brown trout on the 4-inch RIPPIN' Stick and on the PERFECT Crappie Jig. Some real fun has been ours in catching loads of fish from waters the locals tell us have no fish!

Before we get into the details of NC fishing, let's pass on what some of our associates have told us about the present conditions and fishing on the Farm 13/ Stick Marsh impoundment.

Even with the afternoon rains, the impoundment is still below normal pool. Not much, but 6-12 inches. The reason is because the St. Johns River was so low during the spring drought period that they are trying to fill it back up. So, water is going into and right out of the Stick Marsh. That moving water at the pump station and spillway in Farm 13 should provide some decent fishing.

All reports I get say the fishing has been a lot tougher than in past summers. Part of this may be attributable to the fact that, in the past, the fishing has always been just SO darn EASY! Now that it tightens a little, we just may be a bit spoiled and slow to adapt. I certainly would not let it stop me from fishing there. The Stick Marsh is still the best bet in the Country.

Fish are cold bloodied and, therefore, their metabolism is highest in the summer. That means they MUST eat more. I suspect the lack of grass and deep water has put more and more of them in the area of the submerged canals in the Farm 13 side. Plus, there are a number of cool springs in the west end of the Stick Marsh side. But, since I am not there, I can't really be sure I am accurate on what I would tell you. If I were there, I would be on a Texas rigged worm and that RIPPIN' Stick looking for shellbeds on the levees along the canals. It has ALWAYS worked very well in hot weather. Plus, the rains will cause the east Farm 13 pump house to run, as well as the SE corner spillway. Both moving water locations can draw a lot of fish. I would still go to the south end of the Farm with that ˝-oz. jig and work the wood, as well as work it with the 5.5-inch RIPPIN' Stick.

I have a half dozen folks that fish Lakes Alligator and Gentry (between Melbourne and St. Cloud) regularly. They indicate that the fishing has been excellent on both of the lakes. The better lure has been the 5.5-inch JuneBug RIPPIN' Stick, followed by a Texas-rigged worm. There were excellent spawns on both lakes from 2002 to 2004, so that may be a reason for the upsurge in the bass availability.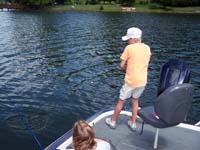 We recently had Tyler Bray out with us for a couple of afternoons. Tyler is 12 and has been bitten very badly by that 'fishing bug'. And, he is also pretty good at it and a very fast learner! We decided to teach Tyler how we find crappie on these mountain waters and how to use the PERFECT Jig to fill a livewell with them. All we had to do was fine some wood in the water, or some submerged grass beds. We successfully did both and Tyler found jigs work pretty darn good! The next afternoon, we brought along a few minnows and showed our young fisherman how to rig and present them. As the pictures show, Tyler learned quickly. (Now, if they can just keep him from playing hooky and sneaking off fishing!! We have probably created a monster. But, we warned his Mother, Linda, up front that he would catch a lot of fish!)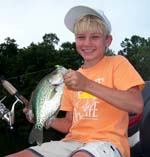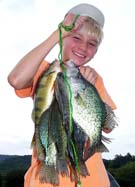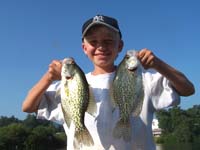 My buddy, Harry Chrzanowski, found how to catch these cold water largemouths and smallmouths well. So, we decided to work on crappie. What we found was that the highland crappie are little different from their more southern brothers. They like wood and grass early in the year, but move to more open water as the summer gets into full swing. Like most crappie, once located, they are simple to catch on the PERFECT Jig. When we found the crappie, they were in post-spawn and starting to feed on their own fry. We actually saw them chase some to the surface. Plus, we had a couple of the fish spit up crappie fry in the livewell. So, we switched to the Gray Ghost PERFECT Jig, in that its color is precisely the same as a small minnow or fry. That doubled our catch rate. Later, when the crappie seemed to move back to the deeper water and their schooling pattern for the summer, we found the cinnamon body, w/chartreuse tail, best.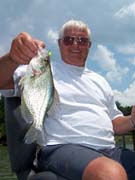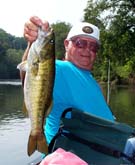 Next, we decided to try for yellow (ring) perch. Knowing little about this species, we asked our friend, Doug Stange, at In-Fisherman to get us started out right. Armed with some yellow perch data from the 'Walking Stange Fishing Encyclopedia', we started to look for grass beds and outer grass lines close to good drop-offs. By golly, the scoundrel was right! Those yellow perch really like those locations. They also like the brightly colored PERFECT Jig (chartreuse body, w/blue tail), plus they will also go for small live minnows. Yellow perch are shaped more like a walleye; i.e., torpedo shaped. That gives them a thick fillet and makes excellent eating. We tried baking them, as well as deep-frying. Deep-frying was definitely best.

With more of Doug Stange's expert assistance, we are now trying to learn walleye tactics. So far, we have caught only 6-7. But, the challenge is what makes fishing fun.

Rainbow and brown trout will eat a 4-inch Pumpkin Seed RIPPIN' Stick. Sounds a bit odd, but here is how we discovered it. The first way we found was to toss the plastic jerk bait into flowing water and reel in back as fast as we could. Sooner or later, we would see a fish following the lure, with his nose nearly against it. We first thought the fish to be smallmouths. But, when we suddenly stopped the lure, the closely following fish would eat it. The first jump showed it was really trout and not bass.

Both species of trout will also eat the PERFECT Crappie Jig. The ones we have caught on the chartreuse body, w/blue tail, jigs have been deep and we just swam the jig along very, very slowly. It might help to add a piece of live worm, or a salmon egg to the jig. But, we fished it plain. It works, but it is really a SLOW way to fish. I plan to try it at night near the deep waters along the face of a dam soon. That might work better.

We'll be cranking up the guide service for those giant Stick Marsh bass in October. This year, we plan to fish a little less than we did this past season. Too many years on the old bilge pump now!! So, if you plan to fish with us, please try to make reservations as soon as you can. We have booked about 20% of our dates now. Plus, we will have one week set aside for TV filming in each of the moths of December 06, Jan 07, and April 07. Come on down, if you can. The outlook appears just as great as last season (see our Fishing Reports Diary)!!


---


Today's Weather for
the Stick Marsh Area



Past Stick Marsh Fishing Reports

Farm 13 / Stick Marsh Information Guide

Email questions to jporter@jimporter.org.






Recommended sites by The Fishin' Tipster

A common question that we get: "Is there somewhere close to get bait and tackle?" This is where we get our bait.




Pete and Tina Heinz / 9 South Mulberry St. / Fellsmere, FL 32948 / 772-571-9855






Get your site listed here
Let us help you drive more targeted traffic to your site.
Rank our Site
©Copyright 2001-07 All rights reserved by Jim Porter, any reproduction, quotation or other use of this site or its elements is prohibited without the express written permission of Jim Porter
FROGG TOGGS RAIN GEAR
THE BEST PRICES AVAILABLE!!