SKEETER HAWK PROJECT
PART 9
'Whew, This Thing's Too Heavy To Carry;
Let's Get A Trailer'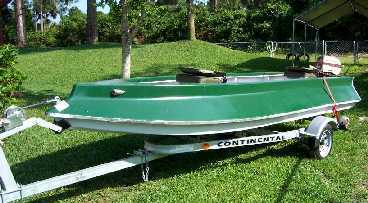 For the final phases of refurbishing our old Skeeter Hawk bass boat, we decided it needed to be on a platform we could move around a bit. So, it was 'trailer-time'. Continental Trailers, south of us in Miami, evaluated the basic structural support requirements of this particular hull design and came up with a perfect fit in their C-5 model. After some slight adjustments to the bunks, the Skeeter went on the trailer like it was custom made for it. Thanks, Continental.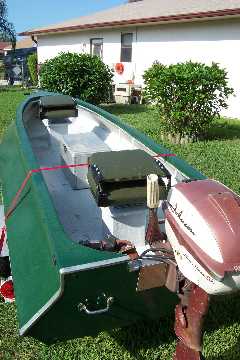 With the painting and most other cosmetics completed, it was time to mount the 'hawg-blaster power pack on the Skeeter'. Literally translated that means we mounted the vintage 5-1/2 Johnson on the transom (We had already checked the transom and done a stress test on it, compliments of Courtesy Marine). In tank tests, the motor purrs like brand new and is 100% original. We decided against an electric start motor at this time, it that we are not going to re-install the stick steering. We plan to operate the motor from the rear seat, in the true vintage configuration, at first.

The remaining tasks include some custom decals for the boat; a small wiring harness to handle the lights, trolling motor and depth finder; mounting the trolling motor; and, adding a few minor peripherals.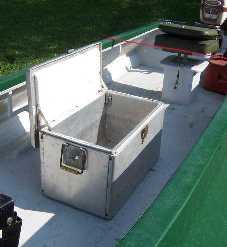 One of those peripherals is already in our possession. It is an original Pleasure Chest cooler, made by the Progress Refrigeration Company of Louisville, Kentucky. We think this is the very first cooler made from aluminum and believe it dates to the mid-1930's. It shows its age somewhat by the twin bottle cap removers, one on each end under the handles. While it may be used as a cooler in our Skeeter at times, chances are it will be primarily a dry storage container.

Stay with us. One of these days soon, we are actually going to fish the Stick Marsh and the Skeeter Hawk will live again!!


CLICK HERE to return to Skeeter Hawk Project main page.




Recommended sites by The Fishin' Tipster

A common question that we get: "Is there somewhere close to get bait and tackle?" This is where we get our bait.




Pete and Tina Heinz / 9 South Mulberry St. / Fellsmere, FL 32948 / 772-571-9855






Get your site listed here
Let us help you drive more targeted traffic to your site.
Rank our Site
ęCopyright 2001-07 All rights reserved by Jim Porter, any reproduction, quotation or other use of this site or its elements is prohibited without the express written permission of Jim Porter
FROGG TOGGS RAIN GEAR THE BEST PRICES AVAILABLE!!