SKEETER HAWK PROJECT
PART 4
'Nuts, Bolts, Screws and the World In General'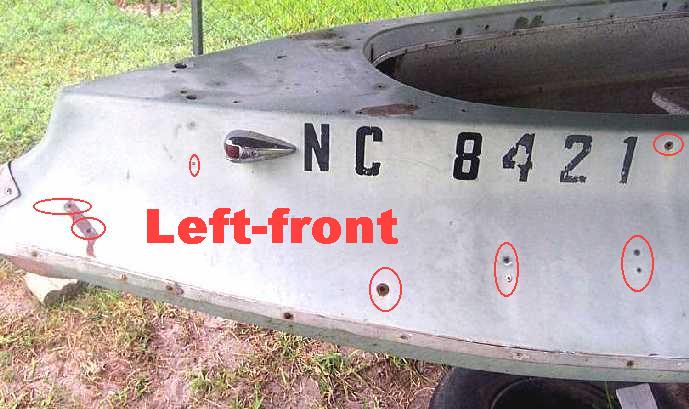 Boy, that old boat must have had enough nuts, bolts, screws, and mounting 'stuffs' to outfit a good-sized hardware store! There is no telling what they were all used for.

I counted at least 4 different depth finder mount locations, with the latest being identified by the hardware as an old Lowrance unit.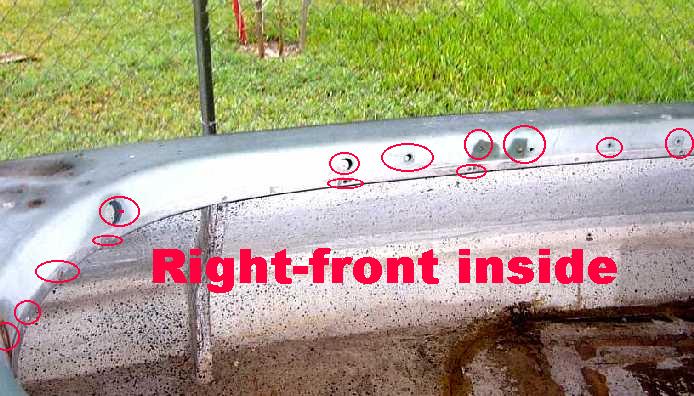 On the bow, there was some leftover hardware from an old FO-MAC trolling motor hold-down assembly. If you recall that one, you are sure dating yourself somewhere back when Custer decided to take that morning stroll down by the river. The FO-MAC was a 2-inch wide rubber strap that went across the lower shaft of a retracted trolling motor (usually a MotorGuide) to hold it securely in rough water. It had some stretch, but tension was actually applied by a ratcheting handle snap-down device on the latching end of the strap. In a tribute to a well-made product, the wide and thick black rubber strap is still functional, as are the rustproof hardware pieces. I have salvaged the FO-MAC unit and will attempt to use it on the refurbished boat. There are few items today which can withstand sitting out in the elements for 14 years at a stretch (no pun intended).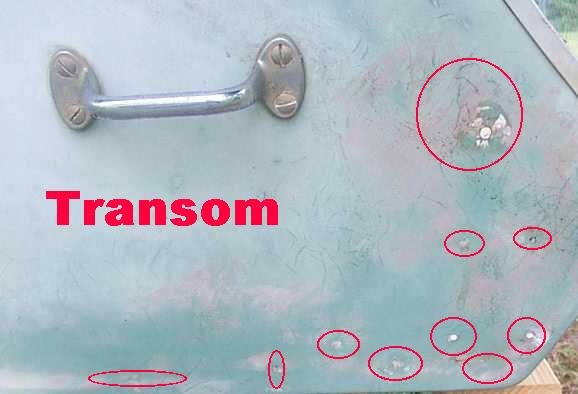 The floor had a dozen screws that probably were for hold-down points for battery boxes and whatever else may have been floor-mounted. In addition, there were 16 other holes in the floor from previous screws that had been installed and removed at some point.

The small front trolling motor mounting deck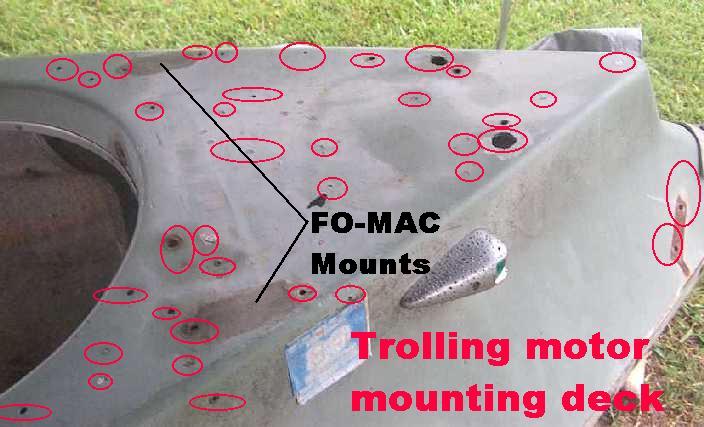 on the bow must have been a Field Tester checkout location. There were so many holes from so many different trolling motors that I could not even start to guess the units from their mounting hole patterns. There were even two metal arms, one off to each side that were used for something. This mounting area is basically a triangular surface and has become weakened over the years. We will install a piece of ż-inch wood underneath it as a stiffener.


CLICK HERE to return to Skeeter Hawk Project main page.





Recommended sites by The Fishin' Tipster

A common question that we get: "Is there somewhere close to get bait and tackle?" This is where we get our bait.




Pete and Tina Heinz / 9 South Mulberry St. / Fellsmere, FL 32948 / 772-571-9855






Get your site listed here
Let us help you drive more targeted traffic to your site.
Rank our Site
ęCopyright 2001-07 All rights reserved by Jim Porter, any reproduction, quotation or other use of this site or its elements is prohibited without the express written permission of Jim Porter
FROGG TOGGS RAIN GEAR THE BEST PRICES AVAILABLE!!