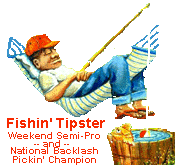 OLD FISHIN' TIPSTER'S NEWS
CLICK HERE to view this file in PDF format.
NOTE: An area road map showing the following facilities and their locations can be found on the website at http://www.stickmarsh.com/stickmarsh/road.shtml

(Email us at jporter@stickmarsh.com, or call 321-951-7841 for help.)
Bait and Tackle Shops
PALM BAY FISHING OUTFITTERS
Al & Tina Bermitz
5055 Babcock Street
Palm Bay, FL 32907

321-952-4435

On Babcock St.,between Malabar Rd. and Palm Bay Rd. (North of Motel 6 and Malabar Rd. about a mile), in the Gulf Stream Center
NANNY'S BAIT AND TACKLE

NOW CLOSED (Was in the BP Service Center, south of Malabar Rd.)
STICK MARSH BAIT AND TACKLE
Tina and Pete Heinz
9 South Mulberey
Fellsmere , FL

772-571-9855

South side of SR 512, between Fellsmere and I-95; 1 block west of the only red light. They also have a fine apartment (newly remodeled!) for rent to fishermen. Sleeps 6; microwave, TV and refrig; good boat parking.
Lodging Possibilities
Stick Marsh Bait and Tackle Apartment
Fellsmere

772-571-9855

15 minutes from the Stick Marsh.
Right next to the bait shop, just off Highway 512. In Fellsmere, off I-95 (exit 156)

Great location; very convenient; good price. Recently totally remodeled. It sleeps 6 and has TV, refrigerator, and microwave. The only negative item is that local code prevents a stove being in the unit, so cooking is limited to the microwave. There is an outside grill, however.
Jameson Inn
Palm Bay

321-725-2952

25 minutes from the Stick Marsh; On Malabar Road, west of I-95 at Exit 156.

This is the 'best bet'. It is new, nice and close to many eating places and a Wal-Mart Super Center. This is the place if you bring a lady. It has outside plugs for battery charging at the base of some of the parking lot light poles.
Motel 6
Palm Bay

321-951-8222

30 minutes from the Stick Marsh; On Palm Bay Rd., east of I-95 at Exit 176.


This is a 'fishermen's motel'. Acceptable, but nothing special except a good price. The backside rooms have outside electrical hookups for battery charging. A little tight on boat parking.
Howard Johnson
Melbourne

321-768-8439

35 minutes from the Stick Marsh
East on Highway 192 (New Haven Avenue) at I-95
Courtyard by Marriott
Melbourne

321-724-6400

35 minutes from the Stick Marsh
East on Highway 192 (New Haven Avenue), 1.5 miles east of I-95
Ramada Oceanfront
On the beach

321-777-7200

45 minutes from the Stick Marsh
On Highway A1A
All major chains have units in Vero Beach to the south (I-95 and State Rd. 60 area), about 35 minutes away from the ramp.


- Suggest you call for pricing. Look in your Yellow Pages for toll-free numbers for the hotel/motel chains.

- Most have good boat parking, except the beachside places. Motel 6 and the Jameson Inn have outside electrical outlets for boat battery charging.


Campgrounds
ENCORE, a large campground chain, has a very large, fully equipment facility at the intersection of I-95 and SR512 (Exit 156, the Fellsmere turn-off). It is on the SE quadrant of the intersection. The tel. numbers are 722-589-7828, or 800-828-7081. It is sometimes referred to as being the Vero Beach ENCORE facility. But, its location is actually 8 miles north of Vero and Exit 156.

Plus, there are others located near Sebastin, Malabar and Vero Beach, FL.



Recommended sites by The Fishin' Tipster

A common question that we get: "Is there somewhere close to get bait and tackle?" This is where we get our bait.




Pete and Tina Heinz / 9 South Mulberry St. / Fellsmere, FL 32948 / 772-571-9855






Get your site listed here
Let us help you drive more targeted traffic to your site.
Rank our Site
ęCopyright 2001-07 All rights reserved by Jim Porter, any reproduction, quotation or other use of this site or its elements is prohibited without the express written permission of Jim Porter
FROGG TOGGS RAIN GEAR THE BEST PRICES AVAILABLE!!